This May, the Transportation Association of Canada (TAC) announced the four winners of its annual Technical Achievement Awards. A team from the BC Ministry of Transportation and Infrastructure, facilitated in partnership with Urban Systems' certified adult educator Pam Robertson, will receive the TAC Educational Achievement Award at this year's fall conference. This year's award was submitted under the BC Ministry of Transportation and Infrastructure for the 2018/2019 Highway Maintenance Contract Training Course. The award recognizes a TAC member organization for outstanding contributions in education and training through an in-house or external program. Winners have demonstrated one or more noteworthy elements of innovation, verifiable payoff, widespread recognition, improved skill sets or practices, or have provided a foundation for better business practices.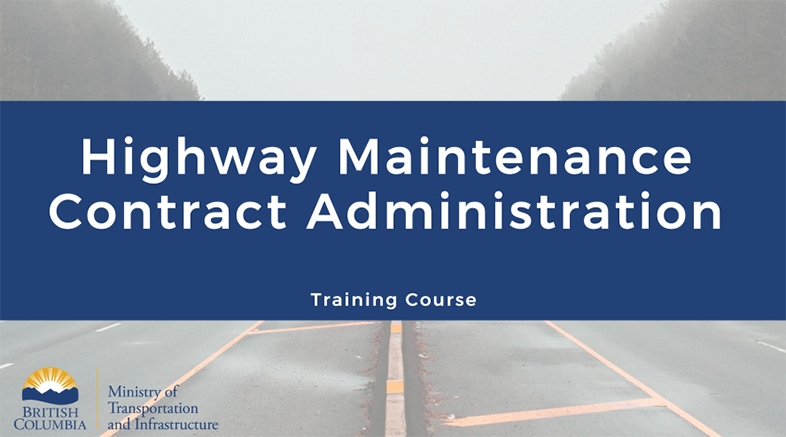 Since privatizing highway maintenance in 1988, the Ministry has selected highway maintenance contractors who provide services through progressively longer-term agreements totaling about $400 million a year. The Ministry recognized that it would be critical for staff and maintenance contractors to be aligned and working well together if the agreements are to be successful over the course of their 10 to 15-year partnership. As a result, the Ministry took the unprecedented step to develop and deliver a specialized training course for Ministry staff and maintenance contractors designed to build their knowledge and skills for fulfilling their roles, develop a common understanding of the agreement, and establish positive working relationships from the start of the agreement.
Dan Palesch, the Director of Highway Maintenance Contract Renewal, shared that the Ministry brought Urban on board "Because none of us are course developers. When we decided to do this training, we were really struggling with how to get started. Anyone can put together a PowerPoint, but not everyone can put together an effective training course."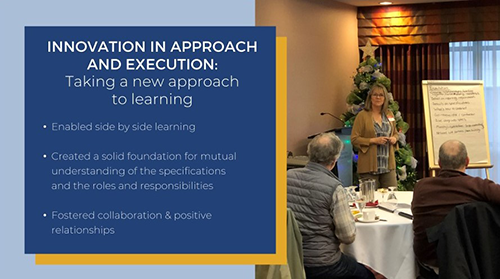 "The difference in bringing Pam on board was having a successful course and a un-successful course", Dan continued, "It helped us come to understand how to go out and stand in front of a group of people and actually teach them something, instead of just being a talking head. It also provided a duel benefit, by not only helping us understand how to successfully train adult learners, but professionally facilitating the training sessions".
The approach of owner and contractor learning side-by-side is innovative for this industry. Course participants, including Argo Road Maintenance, found it to be very successful. Sandi Paulsen, from Argo's team, shared "we found value in participating in this course to reinforce and learn the changes and requirements contained within the new maintenance contracts. Expanding the training to include administrative and support staff provides a broader context and the 'why' beyond some of the requirements, which is beneficial to all".
A training team consisting of Pam, alongside Ministry subject matter experts Ian Pilkington, Dan Palesch, Christina Klatt and Joey Vaesen, worked closely to design, develop and deliver two-days of in-class training to support Ministry staff and successful highway maintenance contractors in administering and implementing the new agreements.
The course was designed to use a variety of instructional techniques to support a diversity of learning styles including small group hands-on activities, large group discussions, videos, presentations, and learner workbooks & handouts. A total of 421 participants, including 220 Ministry staff and 201 contractor representatives, participated in the training delivered in 26 of the Ministry's 28 service areas across the province. The training was designed to create mutual understanding for the agreement and foster collaboration and relationship building between Ministry staff and the maintenance contractors they work with.
"Although the logistics and delivery were of the highest quality, it was the lasting relationships formed as a result of the training that can truly speak to its value. It was clear that this training was designed to promote an atmosphere of partnership among attendees," Elcy LePage of Dawson Road Maintenance shared. "For us […] the training also provided a wonderful opportunity to build community relationships. Since the course, we have been able to collaborate with the Ministry in advancing our social responsibility goals and we look forward to leveraging this partnership to become an even better corporate citizen."
Beyond relationship building, Dan shared that "If you asked me three years ago if I would ever go up and facilitate several 2 day training courses, I would have said you're crazy. It was definitely out of my comfort zone. I've learned a lot about how to stand up in front of large groups of people and feel  confident while delivering hours and hours of training. One of the interesting challenges when you are going through something like this over a long period of time is how many factors can change. There are these challenges that come along, such as staff transitions and technical difficulties that can really test you, but the ability to overcome adversity and still have fun over the course of this training was a highlight. You just learn to adapt; overall it was a very successful initiative."
Pam and the Ministry's training team will be presenting this adult education program at the upcoming 2020 TAC Conference & Exhibition, held online from September 21st – October 8th. The team's presentation is scheduled for September 22 at 2:00 p.m. PST.