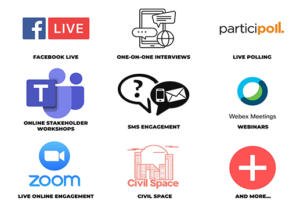 Feedback can be messy. In fact, the best feedback often is. Our Communications and Engagement practice is excited to help our clients get the most out of their public engagement process. Our consultants follow the internationally accepted best practices of the International Association of Public Participation (IAP2) and incorporate innovative and proven techniques to ensure that our clients and their communities make informed decisions together, build trust, and strengthen important relationships. Our team is passionate about helping communities and their residents make informed decisions together, for the greater good and vibrancy of the community as a whole.
In light of the recent COVID-19 pandemic, it has become increasingly important to leverage the benefits of online engagement. We are well versed in a multitude of creative digital technologies that help clients and their stakeholders express what matters most to them. From interactive maps and life-like animated graphics, to virtual reality fly throughs and everything in between, we are here to support you every step of the way.
Visit our story map to explore all the ways in which Urban Systems can support you in your communication and engagement processes. You can also view our Story Map in a full browser version here.