In the Maples neighbourhood of northwest Winnipeg, a school's passion for the outdoors has transformed an empty sports field into an innovative new active living facility.
This September, Arthur E. Wright Community School opened its Active Living Green Space: an all-ages and abilities (AAA) bike park and natural playground, and the first ever bike park in Canada constructed on school grounds. This unique amenity was built around the school's existing soccer field and playground, creating an outdoor sports facility unlike any other in the area – and beyond.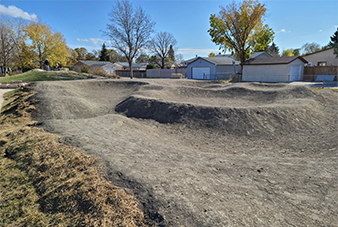 Completing this project marks over 18 months of collaboration between A.E. Wright, the Seven Oaks School Division, design firm Scatliff+Miller+Murray, and Urban Systems.
"It started as one of those ideas that you put into the ether, you meet the right people, and it takes off from there," says Urban Systems' Jamie Hilland, sustainable transportation planner and project lead. "It went from an idea to fully-funded within a year, which is pretty fast for these types of projects. People were really drawn to the innovative aspect of it."
Designed to be a four-seasons facility, the Active Green Living Space integrates a multi-use trail with a diverse topography, biking features (including a pump track and snake run), and outdoor classroom spaces. The variety of features appeal to people as young as three years up to senior citizens.
"We designed it as a nature playground-plus, because of the way it builds an active living component on top of its other outdoor classroom uses," says Jamie. In the winter months, the looping trails and hilly terrain are ideal for tobogganing and cross-country skiing. "Make it fun. Make it flow. That was our mantra."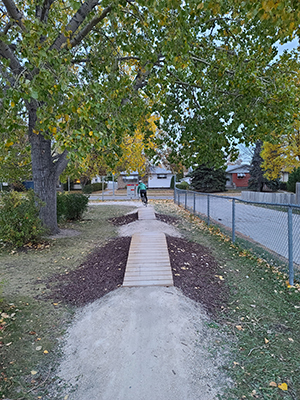 The goal of the Active Green Living Space is to promote outdoor recreation and improve community access to outdoor adventure spaces. A passion in active transportation has blossomed at A.E. Wright over the last few years, thanks in part to the Bike Education Skills and Training (BEST) program, a multi-year component of the school's Physical Education curriculum which teaches students bike commuting skills and bike maintenance. Jamie helped to create the BEST program five years ago, in partnership with Manitoba Public Insurance, when he was with Green Action Centre, and the program is now active in 24 schools across Manitoba with planned future expansion. Arthur E. Wright also operates a bike library, where students without a bicycle of their own can borrow one at no cost.
In early 2019, Jamie visited A.E. Wright to give students a presentation on complete streets, and afterwards met with principal Anna Mangano to discuss the initial idea for the bike park.
"Anna was the driving force behind the project. She told me, 'We really want to take it to the next level. How can we incentivize our kids to keep riding their bikes to school?' I think it's going to add a lot to their existing bike program."
With few affordable recreation options available to the Maples community, the concept of an innovative bike park, right in the school's backyard, energized the community to make the project a reality.
"In many communities, school grounds are now becoming true community facilities that are used beyond the typical 8-4 window of the school day. What this park does is allow for the broader community to access a fun outdoor space from sunup to sundown."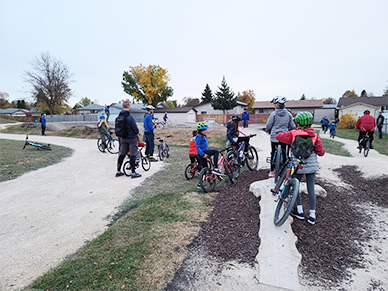 Urban Systems supported A.E. Wright through the grant application process and secured the project's funding from the Seven Oaks School Division, City of Winnipeg, the Province of Manitoba, and the Winnipeg Foundation. Alex Man, a geological engineer from Scatliff+Miller+Murray, created the initial park concept and designed the trail itself. After obtaining the proper permitting (no small task for a project of this nature), construction of the park took place over the summer of 2020.
Despite the lengthy approvals process involving many different stakeholders, there was widespread enthusiasm and support for the project, largely because of the positive impact it will have on the Maples neighbourhood.
"Our hope and intention is to see A.E. Wright become a hotspot, and to become a school that people go to because you can get wicked bike skills and have a bike park in your backyard. They have a community that really prioritizes active school travel, and this project will help to support those efforts."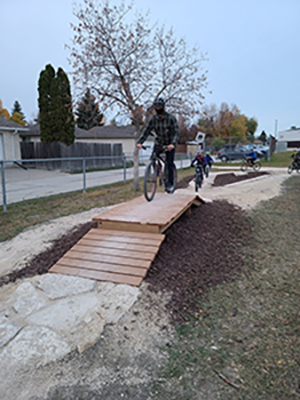 Jamie, an advocate for community cycling and a mountain biking coach himself, believes that A.E. Wright's active living space will lead to similar projects cropping up across Canada. Active transportation professionals from across the country have already reached out to A.E. Wright and Jamie after seeing the park on social media and on CBC Manitoba.
By showing that one bike-friendly neighbourhood can create and fund a vibrant recreation space on school grounds, other communities can also set a new standard for promoting active lifestyles and rethinking how school grounds are used by the wider community.
"To see this park move from concept, to paper, to reality is amazing. We know what these types of spaces can offer. It not only emphasizes cycling as a mode of transportation but also as outdoor recreation. It is super fun on its own. The school and the City of Winnipeg are very excited to see the impact it brings, and so are we."