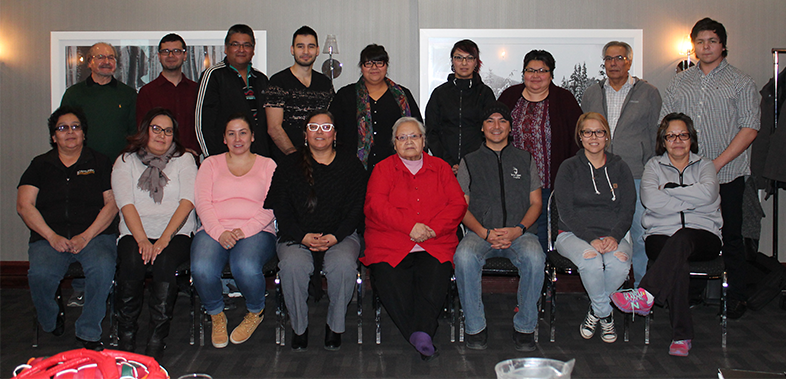 Who knows what a community needs better than those living in it?
In 2015, Indigenous Services Canada (ISC) acknowledged that they needed to do more to develop an understanding of the impact funding programs were having on those who mattered the most – the communities they served. They recognized that community plans in the past had not been successful in monitoring and measuring progress so ISC reached out to Urban Systems and First Nation communities to collaborate on how to improve the process of community planning to make a meaningful and measurable difference in the lives of First Nations.
Three key elements emerged: First, communities identified that funding for their programs and services was based on data that was inaccurate, incomplete or non-existent. For example, Census data often inaccurately portrayed the population of First Nation communities. Second, communities lacked long-term funding from the government to support implementation and management of their community plans. Third, plans were often consultant-led with an emphasis on engagement without a clear understanding of the issues or consideration of the unique cultural values and traditions in the community.
"I truly believe people in their own communities have great ideas and the best solutions for their local issues," says Community Planner Tonii Lerat.
Locals in the Lead
It was decided that the best way forward was for each First Nations to hire a community member to lead the development of their community plan. This Community Development Officer (or Community Navigator) would be in charge of engagement and the creation of a clear, community plan. The job description was open and flexible to give each community the freedom to respond to the particular needs of their area.  
Kickoff
To kick off this program, ISC provided funding to support seven communities in hiring project champions – known as community navigators. Each navigator brought their own unique skillset and professional/educational background to the table. There was an interesting variety of age and stage of career among them—some had university degrees, some did not, some were starting their careers and some were almost retired—but each brought something special to their role in developing their community's plan.
Learning and Leading
New hires hit the ground running. They learned about preparing effective presentations, gathering and analyzing data, updating websites and editing proposals. They were responsible for leading the planning process for their community—with Professional Planners from Urban System's Saskatchewan team working alongside or merely a phone call away.
Online Tools
As part of this new strategy, a new set of online tools were also created to help First Nations monitor and measure progress. The Saskatchewan First Nations Regional Dashboard was launched to communicate key data points related to Saskatchewan First Nations as well as providing an online resource library to replace outdated and hard-to-navigate spreadsheets. The new resource library now lists over 500 programs, services and other resources to support First Nations.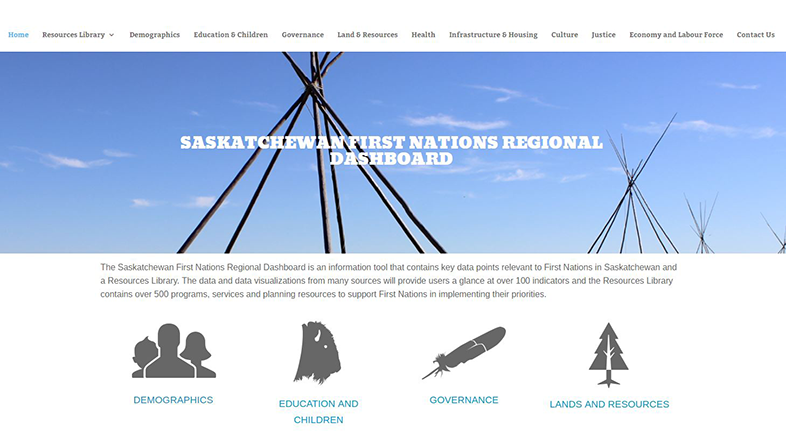 A local website (known as a dashboard) was also created for some of the First Nation communities involved in the project as an alternative platform to share the community plan and the progress being made. The sites were created with support from Urban Systems, who provided training to each Community Navigator, who would be responsible for updating and maintaining their community dashboard going forward. The online dashboards are a hub of information where anyone can quickly get up-to-date data, familiarize with community goals; and monitor the progress being made in the community over time.
Davy Coyle, Director of Funding Services and Governance ISC SK, says these websites have helped provide tools for measuring community plan results: "In the development of websites to link planning to measured results, Urban Systems supported communities to select indicators important to measuring progress. Their support to First Nations has been exceptional in terms of developing cost efficient, easy to manage websites while providing training so that First Nations can track their own goals, measure their own progress and report to their own membership." 
Beardy's & Okemasis Cree Nation's Community Development officer Jasna Eyahpaise says the reason she applied for her position was out of a sense of what is possible. 
"I was born and raised here. My job gives me so much pride because we are all working together to build a healthier, stronger future for our children and future generations."
Today Jasna spends her days connecting with locals of all ages—from children to elders—to learn about the obstacles they're facing and uncover opportunities and ideas. She also researches funding possibilities, and helps different departments deliver programming that is the best and most needed in the community.  
Jasna says that people feel a sense of comfort with her that they might not with an outside consultant. "We're a close and supportive community. I think having a local in this role brings comfort to people. They feel relaxed enough to open up about their views and wishes to me because I am a community member. They might not be as eager to open up about their true feelings to someone they don't know." 
She says that she's learned a lot in her role and is happy to be honing skills in areas that intimidated her before, such as public speaking. "When I first started it was hard to present to big crowds—my voice was shaking and I felt so nervous. I still get nervous but with practice I am improving, and I know in the future it will probably be no problem for me." She's also appreciative of the website training she received and says learning to use programs like Photoshop has been an unexpected bonus.  
When asked about what's on the horizon in the future, she says her list of goals is endless.  
"There are some big things I'd love to see happening here. I really hope to get Aboriginal Tourism Development and Land Use Planning in place. And, maybe a grocery store. Also, a Community Safety Plan and possibly a crisis centre. And, I would actually love to get an elders lodge, and a community civic centre or multipurpose complex…well actually the list goes on and on," she laughs.  "I would ultimately love to create economic development and jobs in the community. I love my community and have big hopes for the future. I want to see us thriving." 
Beyond a Community Plan
And in the end, the benefits went beyond the community plans and extended to building the skillsets of the new navigators.  
"Truly my favourite part was watching the new navigators grow into their positions—seeing them start to understand and really enjoy what they were doing. They took ownership and learned new skills. It's been an incredible thing to be a part of," says Tonii.   
Davy Coyle says this work has been transformational for communities. "The most valuable part of this has been seeing communities empowered to express their unique priorities and goals, and taking the next steps in implementing this vision. This work has supported First Nations in building planning capacity internally, leading to improved self-sufficiency and self-determination for generations to come." 
Looking to the future, the Urban Systems team has visions of building on this success by working with other communities to implement their goals. 
"This has been so effective, I'd love to see it grow even further. I'd love to see this program expanded to more communities, to move forward on this momentum. Sure, any community can hire consultants to facilitate community planning initiatives on their behalf, but the community responds differently, and the pride of ownership is tremendous when membership leads the way." 
The Community Development Initiative has earned the entire program team, comprised of seventeen First Nations, ISC and Urban Systems, the Saskatchewan Professional Planners Institute (SPPI) Excellence in Planning Award for Excellence in Planning Research and Innovation, and honour they received at the SPPI Conference Banquet in September 2018.