If asked to describe what support looks like in their community, a member of <a href="https://www.nquatqua.ca/">N'Quatqua First Nation</a> might answer with,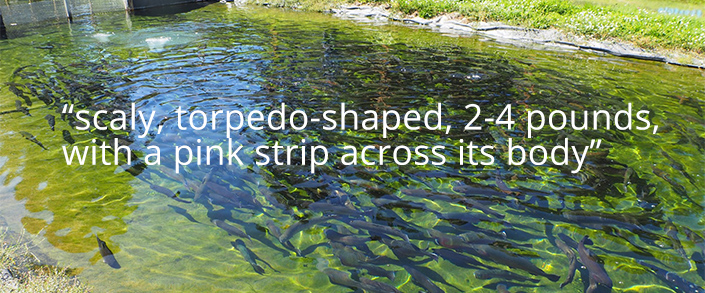 such an answer would be fully warranted because of the caring work of N'Quatqua and its sustainable rainbow trout hatchery.
In response to the COVID-19 pandemic and shutdown, the band-owned hatchery offered 3 free fish to every household in the community, a small act of assistance during challenging times.
The reaction to the offer was overwhelmingly positive, and band members were quick to barbeque, smoke, and bake their newly acquired trout. If members wanted access to more fish, they were available for purchase from the hatchery at a significantly discounted rate.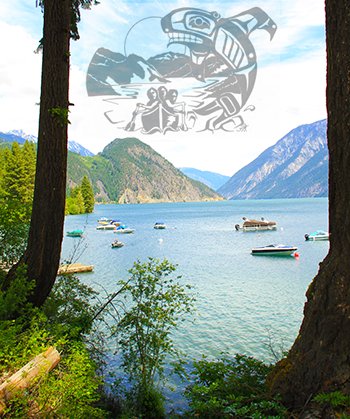 The news quickly spread and soon enough, there were non-N'Quatqua residents from the area seeking to make their own orders of N'Quatqua-raised trout.
"It's a great success story for the Nation and Council that they could provide to their community members," says Andrew Cuthbert, a planner from our Vancouver office, who worked with the Nation to develop the business plan for the hatchery.
The Nation had a surplus of full-sized fish ready to distribute, which they regularly sell to wholesale and commercial clients, such as Fairmont Chateau Whistler's Wildflower Restaurant. When scheduled orders were halted due to COVID-19, the decision was easy to help the community first.
And given the N'Quatqua's remote location, access to a fresh and local food source is vital during a time of self-isolation, social distancing, and nationwide supply chain disruptions.
"Lucinda, the band manager, was hearing from some of the community members that they were concerned about traveling to grocery stores, or buying protein sources where there had been outbreaks," Andrew says, "So to be able to provide your own protein for your community, with a high degree of trust, is very good for providing peace of mind to people."
The small act of providing three free fish to members speaks volumes about the Nation's progress in developing a sustainable food system for its members, as well as a successful community-owned business.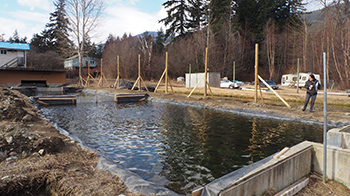 The N'Quatqua Farms aquaculture facility was built in the early 1990s, but only recently has it restructured to meet its original 50,000-fish capacity. In 2016, we helped the Nation develop a 5-Year Economic Development Plan to identify business opportunities within the community.
"The plan was open-ended," says J.P. Raulot-Lapointe, a senior consultant who also works out of Vancouver in our land economics practice. "We looked carefully at all of N'Quatqua's options that would generate opportunities. There were a few ideas, but the hatchery ultimately stuck out and the community was also very interested."
At that point, the land-based hatchery was underused and underfunded, only producing a fraction of its capacity and only selling fish locally. After the Economic Development Plan was adopted, J.P. and Andrew continued their work to develop a business plan for the hatchery's facility upgrades, operations, and sales.
"We noticed that this business had merit. So from there, we worked to secure funding for facility upgrades. Then we found funding to hire a full-time staff member, and then we were able to get money for a new delivery truck."
N'Quatqua's tremendous effort in running the hatchery yielded great improvements, with new buyers and improved marketing of N'Quatqua-raised fish. Before too long, the Fairmont Chateau Whistler began buying orders of full-sized fish for use in their locally inspired Wildflower restaurant. And beyond the full-time aquaculture technician, the new influx of buyers led to extra part-time work for other N'Quatqua members to process and deliver the orders.
J.P. and Andrew recall an instance when the Nation was suddenly in-between buyers, which led to Andrew driving down to the docks in Richmond to canvas potential distributors, with a cooler full of trout in hand.
"There was pressure," J.P. laughs. Fortunately, Urban Systems and N'Quatqua found distributors who place orders to this day. "It was a big moment."
Currently, J.P. and Andrew's work is focused on marketing and branding, so that the Nation can continue improving the value of their product. Programs such as Ocean Wise and Buy Local BC will help increase exposure for the hatchery and tell their story in new markets. "The grocery stores in Pemberton want to sell them now, which is great."
And more demand means more improvements to the facility. After the addition of a third raceway, improved netting, and rehabilitation of the storage tanks, the once-disused hatchery's capacity is likely much greater than its original 50,000-fish estimate. The resilient efforts of the Nation and Council to help N'Quatqua members, with a local business no less, have not gone unnoticed.
"I think it's a real point of pride in the community," says J.P. of the hatchery. "It is becoming a great local business and it's also able to provide food security. It's been really rewarding, personally, to see how the hatchery has evolved."
Andrew echoes, "Every time we go and visit the facility it gets better and better, and that's pretty cool to see."
June 21 is National Indigenous Peoples Day. For generations, many Indigenous people and communities have celebrated their culture and their heritage on the summer solstice. We humbly join all First Nations, Inuit and Métis communities in celebration, reflection, and action towards a better future for all Indigenous peoples. You can learn more about the history and experiences of Indigenous peoples by participating in #IndigenousReads and joining the conversation.