Volunteers from our Edmonton and Saskatoon branches took part in two Habitat for Humanity builds so far this year.
Habitat homes are sold at market value and are made affordable to families in need through a no-down-payment, interest-free mortgage based on 30% (or less) of their gross income. This is reviewed each year and adjusted accordingly. Families contribute 500 volunteer hours to Habitat and attend homeowner education classes on topics like budgeting and home repair.
The Urban Systems Foundation president, Roberto Binda, put intentional effort into growing our partnership with Habitat, making company-wide volunteer opportunities possible.
"The geniuses of our current relationship with Habitat for Humanity comes from a couple of sources: a few of our backyard teams expressed interest, as well as conversations with ">John Steiner, who sat on Habitat's national Board. This was a great opportunity to connect a desire to help, with the knowledge of how the organization works – which has been a model of success for Urban Systems clients and projects."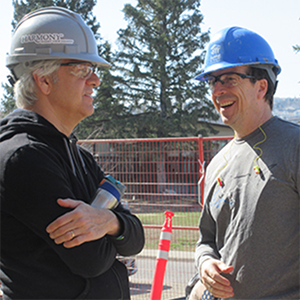 John Steiner completed a three-year term volunteering as an External Director for the National Board of Habitat for Humanity Canada.
"I've been on five job sites as a volunteer, putting in long days with Urban teams, my Habitat Board team, and friends," says John. "Some sites were in the early stages of building where we worked on forms and foundations. Others were in the framing and assembly stage where we put up pre-assembled walls."
John even worked on an international build: a house renovation in Portugal, which he says was probably the most physically challenging of all his Habitat experiences.
"We worked with contractors and masons to provide insulated walls and new roofs to a home largely constructed from cinder blocks. It was barely inhabitable for the family living in it while we worked on the site. I was on my knees for much of the week working on the roof – not something that's permitted for volunteers in Canada."
John hopes to someday experience working with pre-fabricated sections of homes that are made off-site and delivered one floor at a time for multi-unit townhomes.
"Building with teams has been one of my favourite experiences because you can see what we've accomplished together at the end of the day," shares John. "Best of all, families that received Habitat's 'hand-up' toward home ownership and who will be living in the home we're building, work with us during build days. That's when you really understand firsthand why it's such an important initiative."
Edmonton
Edmonton's Habitat build took place on Saturday, April 6, 2019 at Carter Place in southeast Edmonton. This multi-family development has 58 units, of which 33 were already occupied. Urban staff, family members and friends were among the 20 volunteers who participated on the day.
The event was led by Dylan Smith, who found it easy to do, as Habitat for Humanity provided all of the information and handled most of the coordination.
"I only needed to recruit the team and pass along the information," says Dylan.
Volunteers were split up into groups and performed tasks like: installation of drywall and flooring; painting walls and doors; and finishing off small jobs, like installing door knobs.
This was Roberto Binda's second Habitat for Humanity build.
"The first was with the Calgary backyard team in Bowness, the northwest part of the city," says Roberto.
Having thoroughly enjoyed his experience on the Calgary build, Roberto was keen to work alongside Edmonton colleagues and get to know them better in a different environment.
"This was also a great opportunity for me to learn something I had never done before – install vinyl plank flooring," adds Roberto.
Some of the volunteers share their experiences.
Nicolas Abarca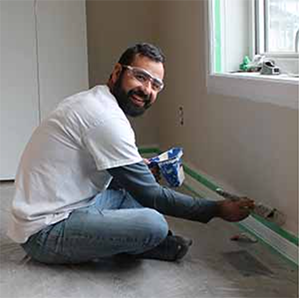 "Habitat for Humanity is a great initiative to be a part of, not only because you're helping build affordable housing for families who may be struggling financially, but also because you get to learn skills that might come in handy when working on your own house. I spent most of my day painting and learning techniques from the master. I like to think that by the end of the day, my skills had improved considerably. The work is fun, rewarding, safe and very well organized. I would highly recommend it to anyone!"
Jared Halter and Akosua Akude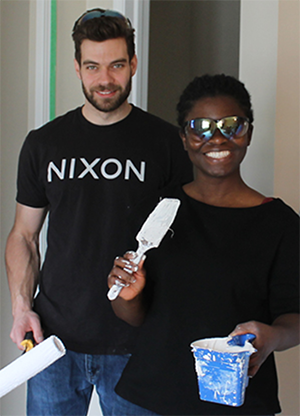 "I like doing construction-type things, so it was a good way to spend a Saturday. I spent the morning by myself painting doors, but in the afternoon I painted doors to rooms where other people were painting baseboards. It felt good to spend time with others while we painted."
"I was part of the painting crew. We painted the walls and trimmings inside two housing units. It always feels good to volunteer time and effort in tasks that contribute to my local community. I particularly enjoyed the fact that it was a new and exciting experience for me. It brings me joy knowing that the painting of the inside is one of the first things an occupant gets to see or experience upon entering their homes for the first time. This is where they will spend quality time with their families and when it's done right, it can bring a sense of joy, relief and comfort."
Jessica Vandenberghe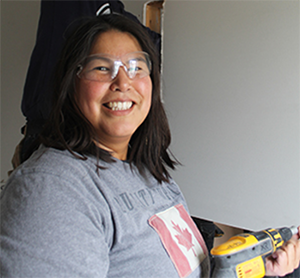 "I was part of the drywalling team, as I felt more comfortable doing this type of work rather than flooring, painting, or finishing. It made me very proud to be part of this initiative. I think it's great when companies are socially-minded and contribute to the communities they are a part of. The highlight of my day was working with my colleagues to get to know them better and under a different type of stress, all while providing for families in need!"
Steve Gear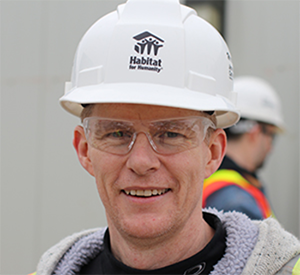 "I was part of the drywalling team for one of the units, where I worked with Keith Fransson. It felt great to be able to use a skill that isn't part of my daily job – to put our mark on the project and work with some team members that I would not typically work with in the normal course of my duties. It was great to have my wife participate in the activities as well. We both really enjoyed learning about how the program is structured and the advantages that it can provide to those who want to learn different skills in the construction industry."
Mark Taylor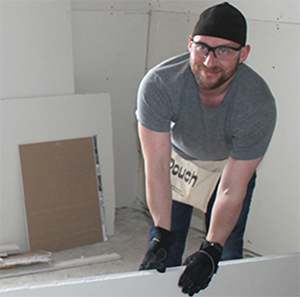 "I was on the drywalling crew. We put up drywall in a few rooms, closets, and stairs. It felt good to be a part of this initiative – I had fun. I didn't realize how long it took to drywall. It felt like we barely accomplished anything in the time we were there, but it was still great to help out. It was a nice change of pace with people from the office. I interacted with some people I don't normally work with. We worked hard; we were covered in dust. It was nice to sit down and relax with everyone afterward and enjoy a beer."
Dylan Smith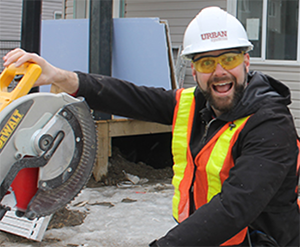 "The opportunity to work alongside future homeowners really highlighted the impact that the Foundation is making to several families. I volunteered a couple of years ago in one of the initial phases of the Carter Place development. Seeing families now living in this area was very rewarding. As an added benefit, a lot of us also gained some new construction skills. I plan to use my new flooring installation skills for some renos to our home."
Jeff Ku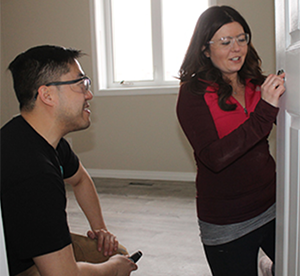 "I had the easiest job of all the volunteers that day. Being on the 'finishing crew', the majority of the house was complete with only final touches required before families could move in. Samantha Myroniuk and I put on door stops, cabinet/cupboard/drawer/door knobs and door locks. It was a great opportunity to learn more about the program and its finer details. To know that what we are doing is contributing to providing a place for families to make a home for themselves is great, considering how housing shelter is such a basic human right. To know that we're helping to make something so important more affordable so that families can focus on meeting other needs for themselves is also encouraging. It was very kind of folks to help me celebrate my birthday that day with some surprise cupcakes – it was greatly appreciated! But it was definitely the breaks where we had the chance to chat with one another about what we were working on or the funny incidences or stories that happened while we were all working together. It was a really nice way to bond outside of our normal working roles."
Saskatoon
The Habitat build day in Saskatoon took place on Saturday, June 22, 2019. This was the team's second experience; their first one was June 9, 2018.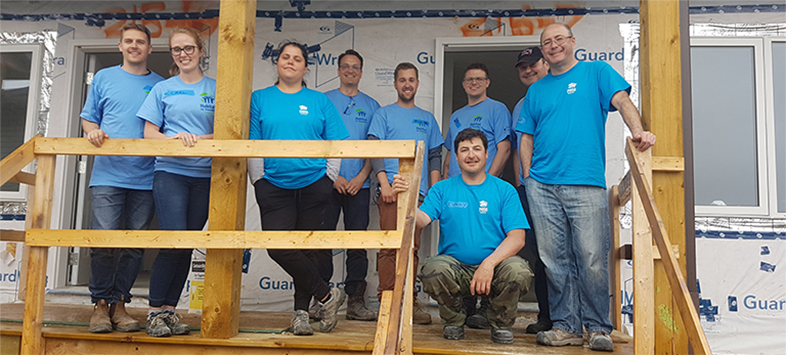 "We were back at the Slimmon Place townhouses again this year," says Carolyn Dunn, the Foundation core connector at the Saskatoon branch. She was one of the 10 volunteers at the build, which included eight staff and two family members.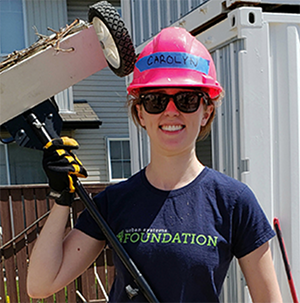 "Because it rained most of the day, we worked indoors, focusing on sanding and painting ceilings, trim, and walls. The highlight of the day was meeting a family that is going to move into one of the units when they are complete."
Back in 2018, the weather was sunny and the team worked hard on the construction of decks for the units.
"The project will house 12 families. Three units have been designed to meet the specific mobility needs of the families purchasing the homes. The townhouse development is close to schools, parks and shopping, which is perfect for families. The build day was a very positive team-building experience and many of us learned a few construction skills."
Chad Watson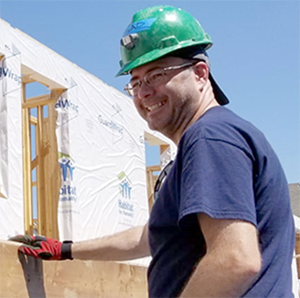 "The group from our team that I worked with were responsible for sanding and then painting the ceilings in one of the townhouse units. I took part both years. In 2018, we worked on the construction of the units. This year, we worked on the finishing. It was nice having a mix in the work we did over the two years. It was good to see the progress from year to year. We were lucky enough to meet one of the families that will move into the units once they are completed."