So what's the overall impact for one of the oldest cities in Canada? One million people is a critical number when reassessing a city's urban strategy. Winnipeg is at a tipping point. This puts infrastructure, urban planning, economic development and transportation at the forefront. There is a remarkable opportunity to shape the city. It's an especially exciting time for our Winnipeg office as we position our self to be an integral contributor to the city's growth plan.
As a result, our Winnipeg office has nearly doubled in size this year. To support the city achieve this milestone, our Winnipeg team offers an exceptionally broad range of skills to serve clients and specializes in land use planning (traditional community planning) and active transportation. Here's a snapshot of the city, our office, and the opportunities:
Team:
Nine Urbanites who are passionate about building Winnipeg
The Opportunity:
Assist the city in its challenge to accommodate one million people by 2035
About Winnipeg: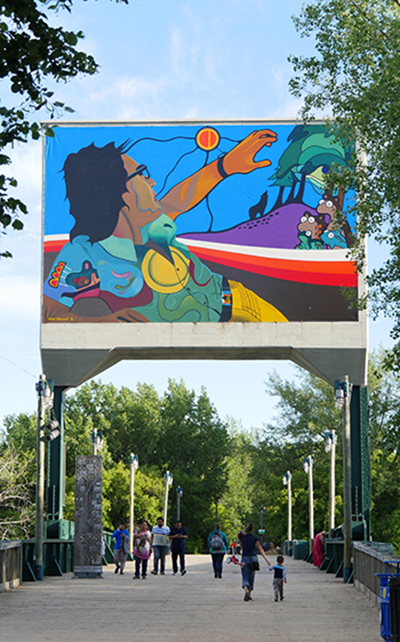 The metropolitan area includes 10 municipalities and one First Nation. In total, 50 per cent or more of the labour force works in Winnipeg.
Immigration will continue to bring the most people to Winnipeg. Interprovincial migration, which has historically resulted in population loss, is projected to improve for Manitoba over the next 25 years.
The median age of the population is 39
Winnipeg has the highest Indigenous population living in the city by percentage (11.1%) for any major Canadian city.
Tagalog (Filipino) was officially the second most common mother tongue in Winnipeg, accounting for about 5% of the population, followed by French which is the mother-tongue for about 4% of the population.
Winnipeg's after-tax median household income is approximately $50,537, slightly lower than the national average ($54,098).
Demand for housing will remain steady, with an increase of 100,000 more households (32%) over the next 25 years. This creates demand for approximately 4,000 new homes a year.
Major employers and industries are agriculture, manufacturing and government. The city also has a budding entrepreneurship scene that includes success stories such as SkipTheDishes https://www.startupcan.ca/ourwork/startup-winnipeg/
The city is host to one of Canada's oldest Winter festivals, Festival du Voyageur, which attracts nearly 100,000 people annually.
Urban Systems Winnipeg Services:
Get involved
Watch the Winnipeg Pop Up Bike Lane Experiment, a protect we helped the City of Winnipeg promote